As of recently, drones have replaced people in many fields of work; From replacing cameramen, to replacing delivery services, it is very possible that they will be used for even more and more job opportunities to come. While the goal of creating drones wasn't supposed to result in the rise of unemployment, drones certainly have a say in it. Interestingly though, drones were first created to help people navigate through places they couldn't reach – and this is exactly what Amazon wants to do with its (relatively) new Amazon Drone Delivery system.
What is Prime Air?
The Amazon Prime Air delivery system was created in 2016, and if you go to Amazon's website, you will see photos and a video of its first customer receiving a drone-shipped package. While the idea is very thoughtful, Amazon has yet to actually realize their service; They have been obtaining safety certificates and are following all the given measures in order to start their drone shipping. Their goal is to be able to ship packages in this manner worldwide, and they are slowly working towards it, one step at a time.
Will it work?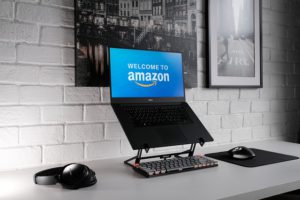 If you ask us, there is no reason why drone shipping won't work – we have to admit that it is a very efficient way of delivering packages. What's more, it is a very safe way of shipping packages; we already know how many road accidents happen on the daily basis, so it is safe to say that the operator of the drone won't be endangered in any way. Usually, Amazon's drivers will have to go to great lengths to deliver some of the packages (imagine narrow roads, for example), but with the appearance of Prime Air, they can just control the drone from their office and get not only to the given address on time but without any injuries. What we would also love to point out is that by using drone services, Amazon will not be involved with creating traffic issues, as their packages will be air-borne.
Many of you are aware that Amazon gets a lot of orders every minute, so we think that by having a drone delivery service it will not only be easier to ship them off, but it will also be quicker – and we know that efficiency is important to Amazon. What they are promising as of August 2021 is that they will deliver any package within 30 minutes of ordering, which, if you ask us, is incredibly efficient. 
Conclusion
We believe that Prime Air will work out, and we can't wait to see what the future holds for this kind of delivery system. If Amazon works it out, Prime Air will be incredibly efficient not only to buyers but also to people who work at Amazon. We can't wait to see their next step!