When it comes to gaming equipment, we know that things can become pretty crazy on the market; with keyboards costing 500 euros or more, headphones the same, laptops… over the 1000 euros mark, we do understand that some people just getting into gaming want to back off and not even attempt to buy something labeled for gamers. But, it's not all black and white. There are some really great low-cost brands that allow beginner gamers on a budget with amazing equipment which doesn't lack the quality that its high-cost "cousins" have. We have an article on the topic of headphones for gamers on a budget on our website, so if you are interested in that, do check that blog out. Today, however, we wanted to expand on that idea and show you that you don't have to be rich to have a good set-up. Here are some of the brands that provide you with great quality for a small amount of money: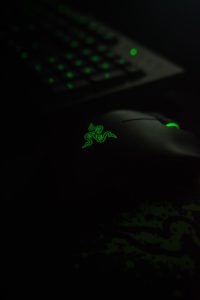 Razer BlackWidow Chroma V2
If you've done some research on gaming brands, Razer should have definitely appeared in your google search history. Razer offers a vast amount of affordable gaming gear, so we wanted to start our list with them. This keyboard is extremely responsive, it can be used both on PCs and Macs (USB included!), but honestly, our favorite feature when it comes to this keyboard is that it is ergonomic. Your hands won't cramp up while or after you finish playing a game!
Razer Wildcat
While we are on the topic of keyboards, we wanted to list this Razer's gaming controller. Their Wildcat controller has all the features a standard Xbox controller has, and it's really promising. Unfortunately, it isn't wireless, but it allows playing on any PC, Mac, or Xbox with a USB link. It has a lot of control, so you don't have to worry about that when you're in-game. Wildcat is not too heavy, and it perfectly fits your hands while playing.
Logitech G402 Hyperion Fury
While you may have not heard about Razor (although we doubt it), you have surely heard of Logitech. Logitech has been a renowned name in the gaming and computer industry in general, so naturally, we had to include them in this list. Their Hyperion Fury gaming mouse is an incredibly responsive, high-speed mouse that has a built-in accelerator that allows you to respond very quickly! The idea behind creating such a high-speed mouse rose from their idea to copy gamers' movements. Genius, isn't it?
These are some of the things we think you should invest in if you are a gamer on a budget / a beginner gamer. They are affordable gaming controllers of all sorts, that you will end up using not only for gaming but for your everyday life as well!